Truro Cathedral, Cornwall (Pentecost)
posted by Kaihsu Tai on May 28th, 2007
"Truro. It was a name as lonely as the edge of the sea." – Thomas Merton, The Seven Story Mountain
This weekend I visited Truro and St Austell in Cornwall. I went to Evensong on Saturday (Augustine of Canterbury) and Eucharist on Whitsunday (Bede and John Calvin) at Truro Cathedral.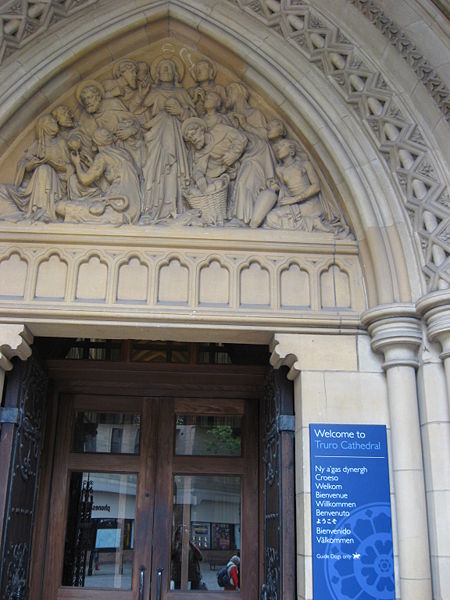 I spent a disproportionate amount of time at the bookshops, and found that my friend Michael Everson and his friend Nicholas Williams have been parties in the debate about modern Cornish-language orthography. I found an article "Worship in the Cornish Language" by Brian Coombes in the May 2007 issue (number 128) of An Baner Kernewek (The Cornish Banner, said to be erstwhile the party organ of the Cornish Nationalist Party; ISSN 0306-8079):
In 1986, following the research of Dr Ken George, the Cornish Language Board adopted a "phonemic" spelling system for Unified Cornish – seeking to provide closer links between pronunciation and spelling. This was adopted, but a substantial number remained using the 1928 "Unified" system. The situation has been complicated by two further variants. Dr Nicholas Williams of Dublin has modified Unified Cornish, ("Revised") less radically, partly by adopting the late Medieval period as standard […]

In 1996, the Bishop's Group held a one-day conference in St Austell about the rendering of Biblical names, place and personal. From this grew the idea of translation from the original languages and the aim of completing the New Testament by the centernary of Jenner's "Handbook" in 2004. The team had been ably led by Keith Syed of Cheltenham, and in the New Testament six translators were involved, the books being published in part between 1999 and 2004. It is Common ("Kemmyn") Cornish, though Unified versions are available for services and the Cornish Language Board aims to produce Unified versions when any corrections needed are apparent. The full New Testament [ISBN 1-902917-33-2] was launched at Bodmin Parish Church in August 2004 and a specially bound copy was presented to the Archbishop of Canterbury [Rowan Williams] (himself a native Welsh speaker and member of the Welsh Gorsedd) at a service in Truro Cathedral in November that year. As well as the New Testament, some books of the Old Testament have also appeared.

In the meantime, in 2002, Nicholas Williams of Dublin brought out his own one-volume New Testament from the Greek [ISBN 1-953975-4-7; typeset by Everson]. However, this was in his "Revised" version of Unified Cornish, which may limit its utility – though it is good to have two version from the Greek as well as "secondary" translations from other languages.
(For balance, I should mention that my party, the Green Party of England and Wales, is a partner with Mebyon Kernow, the other Cornish party: "Cornish, green, left-of-centre, and decentralist".)
Both comments and pings are currently closed.