Faiths walking together (again)
posted by Kaihsu Tai on June 7th, 2007
On Wednesday, Oxford saw the fourth annual Friendship Walk. Beginning at Oxford Synagogue and Jewish Centre, Richmond Road, via the University Church of St Mary the Virgin, finishing with buffet supper at the Central Oxford Mosque, Manzil Way, there were prayers at each location. More than 300 friends walked together, including those of the Bahá'í and Sikh faiths. The walk was reported in the Oxford Mail the next day.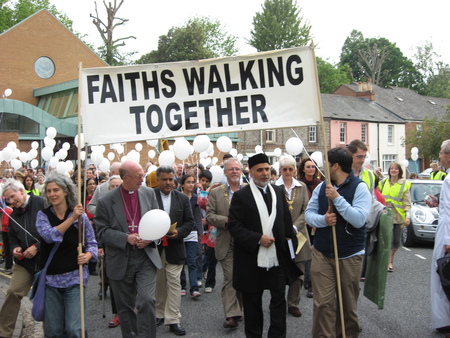 The Patrons were the Bishops of Oxford and Dorchester; Imam Munir; Rabbi Norman Solomon; The Lord Mayor of Oxford, John Tanner (Labour); and the Lord Lieutenant of Oxfordshire, Hugo Brunner. In addition, I spotted County Councillor Larry Sanders, City Councillors Elise Benjamin and Craig Simmons (all Green); and former city councillor Tony Brett (Liberal Democrat). I might note that City Councillor Colin Cook rode his bicycle past us, saying "I can't believe this!"
The walk ended with these thoughtful, responsive prayers:
O God, you are the source of life and peace.
Your power changes hearts.
Jews, Muslims, and Christians remember and gladly affirm
that we are followers of the one God,
children of Abraham, brothers and sisters.
We trust for the future.
We resolve to honour the differences in our stories.
We take risk to journey together as we face the challenges ahead.
And we pray for new beginnings and for peace in our world.
Amen.
The event was supported by the Oxford Jewish Congregation; University Church of St Mary the Virgin; the Central Oxford Mosque; the Madina Mosque, Stanley Road; the Quaker Society; Wesley Memorial Church; Saint Columba's United Reformed Church; and the Oxford City Council. Thanks go to the Reverend Charlotte Bannister-Parker for organizing it.
Both comments and pings are currently closed.