Haiku from the say-nothing place (2003)
posted by Kaihsu Tai on June 15th, 2007
a batch of haiku
catalogues our journey – here
with some photographs
– Kaihsu Tai
Irish health warning:
perspective limits paper
(necessarily)
– after Dr David Stevens
A briefing paper on Northern Ireland
– a stew in Linen Hall
you can't grow palm trees
on some County Antrim coast
ecumenism?
it's a small country
everyone's on a network
and you can do that!
– both after the Revd Ken Newell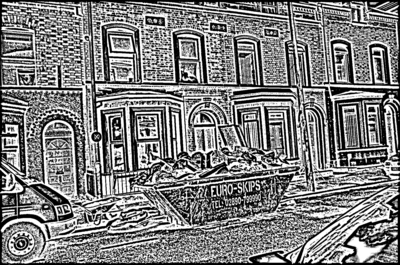 – a skip on Fitzroy Street, Belfast
for each statelet, a
constitutional colour
Do I have to choose?
– after Prof. Elizabeth Meehan
'Corrymeela' means
hill of honey, harmony;
or turn on the road
– after the Revd John Morrow
can you write a poem,
man, to your X chromosome –
perhaps a love poem?
– thanks to Michael Longley
– Ulster fry
I look for a day
when the remaining 'trouble'
will be those short skirts!
my immune system
like the England football team
is winning just now
a time of silence
to give thanks for the food now
Corrymeela style
– thanks to Audry and Geoff
– a tower on a wall
a well-pulled Guinness
in a half-litre glass, and
costing five euros

Most sincere thanks to
dear Doctor Bob Purdie for
arranging the trip
(first published in the St Columba's Church newsletter)
Both comments and pings are currently closed.