Faiths walking together (fifth time)
posted by Kaihsu Tai on June 4th, 2008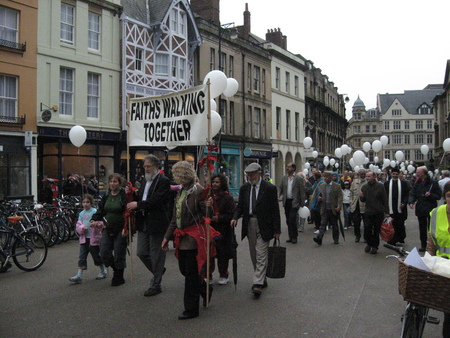 Yesterday, hundreds of people participated in the fifth annual friendship walk in Oxford. The rain held off by order as planned, due to fervent prayers by the faith communities. We started from the Synagogue in Richmond Road at 18:30, where we received the good news of the birth of Bishop's new granddaughter. We walked by the University Church of Saint Mary the Virgin, where we enjoyed organic refreshments supplied by Vaults and Garden. We finished the walk at the Mosque in Manzil Way around 20:00, with buffet supper donated by the Mosque and desserts from the Oxford Synagogue.
The patrons of the event were: The Bishop of Oxford the Right Reverend John Pritchard, Imam Munir Chishti, Rabbi Norman Solomon, the Venerable Abhipanya, Davinder Singh Gill, Chinta Kallie. The event was supported by: Oxford Jewish Congregation, Church of St Mary the Virgin, The Central Oxford Mosque, The Madina Mosque, St Columba's United Reformed Church, the Quaker Society, Oxford Vihara, Oxford Gurdwara, Wesley Memorial Church, Oxford Council of Faiths Steering Group, and Oxford City Council. The following local dignitaries addressed the attendees: the Lord Lieutenant of Oxfordshire Hugo Brunner (representing Her Majesty The Queen), the Lord Mayor of Oxford Councillor Susanna Pressel (Labour), the Deputy Lord Mayor Councillor Elise Benjamin (Green), and Councillor Sabir-Hussain Mirza (Labour).
We closed our walk with these considered words:
We trust for the future. We resolve to honour the differences in our stories. We take risks to journey together as we face the challenges ahead. And we pray for new beginnings and for peace in our world. Amen.
Sadly, in the local press, the Oxford Mail gave the event only 2 sentences on page 3, with no photographs. Perhaps it now considers this too regular to be newsworthy. Previous walks: 2004, 2005, 2006, 2007.
Both comments and pings are currently closed.