Hundreds depart Worcester for war in Afghanistan
posted by Mike on August 1st, 2010
As thousands gathered at Worcester's Foley Stadium, including Worcester's mayor and U.S. Rep, to bid farewell to more than 670 National Guard soldiers of the 1st Battalion 181st Infantry Regiment heading to Afghanistan, a dozen people stood across the street voicing opposition to the war, holding signs reading "Put away your sword," "We are all called to be peacemakers," and "I Love U: Please stop the cycle of violence."
Though a few attendees expressed support for the protest, many more, of course, expressed disagreement.
According to the Globe, this is "the largest deployment of Massachusetts National Guard troops since World War II." The troops will reportedly train in Indiana for 2 months before heading overseas.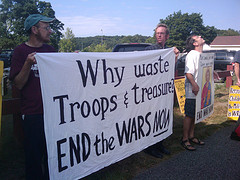 Vigil organized by the Saints Francis and Therese Catholic Worker Community.