Worcester panhandling report/plan, 2012
posted by Mike on July 13th, 2012
The City Manager's response to the City Council's request that something be done about panhandling is now online. The agenda item is: "Transmitting Informational Communication Relative to a Reponse to Reduce the Incidence of Panhandling in the City". PDF link
There's 57 pages of stuff here. Glancing through the 4-page letter from the City Manager that opens the document, we see these highlights:
Social Service/Treatment Response: A social worker from SMOC will do outreach to panhandlers, connecting them with services, providing general reports on panhandling to the city, and working with police if the occasion arises. There will be a phone number people can call to complain about panhandling, and these reports will make it to the social worker. I don't think this was part of the previous anti-panhandling campaign. (PDF of previous plan)
Enforcement: "Peaceful panhandling is constitutionally protected speech." From Jan 2011-Jan 2012 the WPD estimate they received 181 reports of non-peaceful panhandling, which led to 5 arrests.
Public Education: AKA, telling people not to give to panhandlers. This was pretty much the only part of the previous anti-panhandling campaign that was implemented, and was an embarrassment and a failure. The City Manager notes that "Several social agencies, including the United Way" have agreed to work with the city on a public education campaign.
In a nutshell: We're hiring a social worker to deal with the problem.
Many more details, especially as regards the media campaign, are yet to come.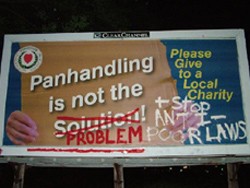 Photo: The showcase billboard from Worcester's 2005 anti-panhandling campaign, defaced.