In an act of civil disobedience against Worcester's new anti-panhandling ordinances, three Worcester residents today begged for money on the median in Lincoln Square, directly across from police headquarters. The event was held on Ash Wednesday, the beginning of Lent, which Christians mark with prayer, fasting, and almsgiving.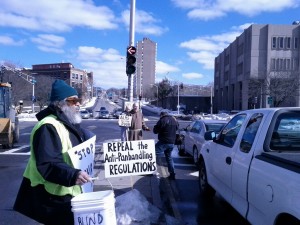 Gordon Davis, a blind anti-discrimination advocate, held a bucket reading BLIND and represented the disabled. Scott Schaeffer-Duffy, a Catholic Worker who has housed the homeless in Worcester for decades, was dressed as St. Francis, himself a beggar. Robert Peters, a long-time Buddhist meditator, dressed in the robes he wears as a lay Buddhist.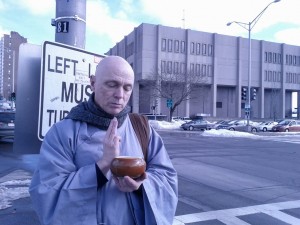 At least four people called the police to complain. According to the supporters demonstrating legally on the nearby sidewalk, the only police response was one officer giving the thumbs-up when he drove by.
In a statement, Chief Gemme said that "Today, between 1 and 2 p.m. there were 21 calls for service throughout the city. None of these calls were regarding panhandling." (I'm not sure what the difference is between a call for service and these calls. Maybe there were 21 911 issues?)
None of the beggars was arrested, cited, or warned. "This is a victory for Worcester," said Schaeffer-Duffy.
Womag has more pix. The T&G reports "$14.68 collected," all of which will go directly to those in need.