Merry pre-Christmas
posted by Mike on December 22nd, 2010
We had a little pre-Christmas celebration today, lighting all the Advent candles, exchanging gifts, and listening to holiday music.
We're travelling over the next few days. If all is well will celebrate with family, but what with this week being what it is, there's a good chance we'll end up spending the 25th in an airport somewhere, and we thought we might as well have a little Christmas celebration at home just in case.
If we have to spend Christmas stranded, we'll be part of a long tradition, including many TV specials and the birth of Christ itself.
I don't know what my internet access will be this week, either, so here's my #1 nativity scene of 2010, from the Christmas pageant at Pleasant Street Baptist Church.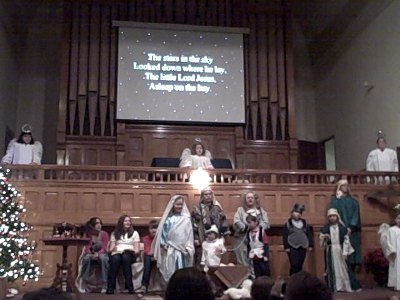 A Christmas tree, a tabletop nativity scene, kids on a couch, a living nativity scene, a huge cross, the Snow Ghost, and a hymn on a huge screen among the angels. There's enough theology here, even at low resolution, for a novel, with a couple icons left over.