Nine days of prayer and fasting for an end to U.S. torture
posted by Mike on January 7th, 2009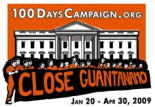 I'm joining more than 60 people on January 11, 2009 — the seventh anniversary of the opening of American detention facilities at Guantanamo Bay, Cuba — in a nine-day, liquid-only fast to encourage President-Elect Barack Obama to keep his promise to shut down Guantanamo and end torture in his first days of office.
At DuPont Circle Park in Washington, DC, at 12:45 pm, leading human rights organizations, including Amnesty International, the ACLU, Center for Constitutional Rights, and 9-11 Families for Peaceful Tomorrows, will call for an end to the Bush policies, justice for the detainees, and accountability for US crimes. 100-200 demonstrators wearing orange jumpsuits and hoods will have a prisoner procession to dramatize the plight of the detainees still at Guantanamo.
The fast ends on Inauguration Day, when we begin a 100 day campaign to close the prison.
This will be my longest fast to date. I'm skeptical about "detoxification" and other health claims made for fasting, but fasting has always cured my spiritual malaise and helped me refocus my life.
What will my fast be like? I have this goofy super-health-food protein drink, vegan but not raw. My plan is to have 2 servings a day (440 calories) of this for the first week or so, then re-evaluate. I think most of the other fasters will stick to juice. (8 ounces of unsweetened orange juice is 112 calories, and apple juice is 117 calories.) I'm also going to avoid caffeine and alcohol.
If you'll be fasting, in DC or elsewhere, let me know and we'll link to your account on the 100 Days website.
100 Days co-organizer Matt Daloisio talks about the campaign: