Tapestries at the Cathedral
posted by Adam (Southern California) on March 1st, 2009
On Ash Wednesday I attended Mass and received ashes at the Cathedral of Our Lady of the Angels. Many criticized its building as an extravagant expenditure, and some traditionalists have criticized the modernist architecture of the mother church of Los Angeles, which opened in 2002, and I don't entirely disagree with these criticisms. About the design, however, it must be said that the interior is far more welcoming than the stark exterior and does a much better job of focusing the visitor's attention on God.
In particular, there are lovely 18-foot-tall woven tapestries all along the north and south walls of the nave depicting the Communion of the Saints as a crowd of people, individually recognizable and identified, gazing toward the altar. These are truly moving — proof that people can still make great sacred art. The artist (John Nava) painted them using a realistic "old master" style, then digitized the images and programmed a computerized loom to make the tapestries, producing an effect that is both classic and very immediate.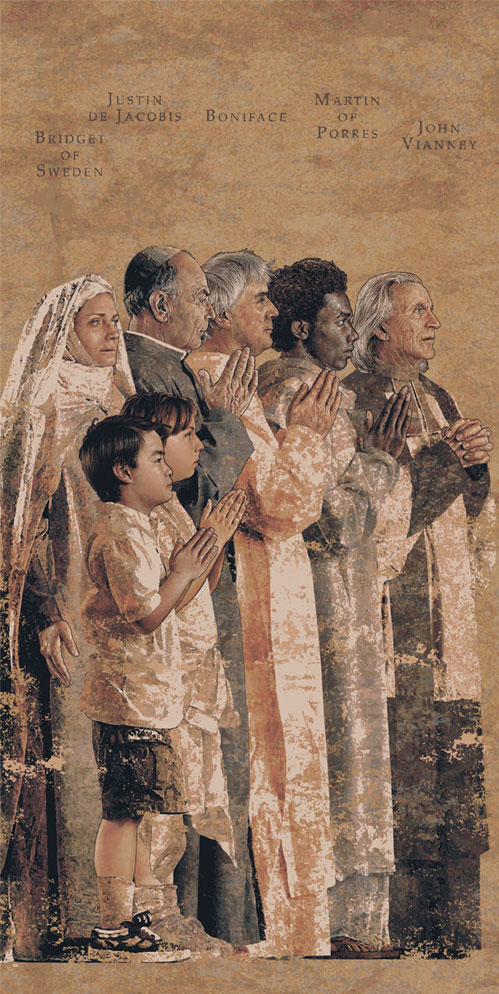 If you click on "art" and then "tapestries" on the cathedral's website, you can read more info and click on the thumbnails to zoom in on a couple of the individual panels.