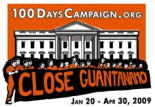 To cap the 100 Days Campaign to Close Guantanamo and End Torture, 150 people in black hoods and orange jumpsuits, joined by 50 others, marched from the Capitol to the White House. After a brief rally, 61 of these, stood on the White House sidewalk holding a banner reading JUSTICE DELAYED IS JUSTICE DENIED. Each person carried the name of one of the 55 detainees cleared for release by the Bush Administration, but not yet released, or the name of one of the 5 prisoners who died at the prison.
After being warned to disperse, they were arrested.

Much more at the 100 Days Campaign site.
Russia Today:

Huffington Post has an article and video of Carmen Trotta at the top of his game.