Valerie: Bye bye boys!

Miracle Max: Have fun storming the castle!

Valerie: Think it will work?

Miracle Max: It would take a miracle.

(from "The Princess Bride")
I'm in Washington DC today with about 2 dozen others to begin 12 days of work, prayer, and fasting for the closure of the Guantanamo prison and an end to America's policies of torture.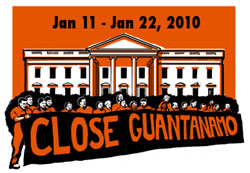 As I was leaving my house to come here, a neighbor wished me luck, and said she was reminded of "Have fun storming the castle!" As it turns out, during last year's 100-day Guantanamo project, I said this nearly every time people went out vigiling at the White House if I couldn't join them.
There are several reasons that it makes sense for me to spend 2 weeks working on this issue through this project at this time.
One of them is to push things a little. We all do things every day that will know will make the world a better place. Sometimes, we do things that may fail, but that are still plausible. From time to time, we need to push the bounds of the plausible, to do things that require a good measure of faith, things that will "take a miracle." This project is one of those things.
Hope is a state of mind, not of the world. Hope, in this deep and powerful sense, is not the same as joy that things are going well, or willingness to invest in enterprises that are obviously heading for success, but rather an ability to work for something because it is good.

Hope is definitely not the same thing as optimism. It is not the conviction that something will turn out well, but the certainty that something makes sense, regardless of how it turns out.

—Vaclav Havel (linked to at Bruce Sterling's 2010 "State of the World" conversation)