Newspapers down 8.7%; T&G down 9.5%
posted by Mike on April 27th, 2010
The T&G reported paid circulation declines about on par with expectations because of recent pricing changes; and also continued to report significant growth in its online audience. Daily circulation declined 9.5 percent to 71,034 Monday through Saturday; and Sunday declined 10.3 percent to 81,461.
Looking only at weekday circulation, and comparing the annual Oct-Mar reporting periods, this represents a 16.2% decline in circulation over the past 3 years.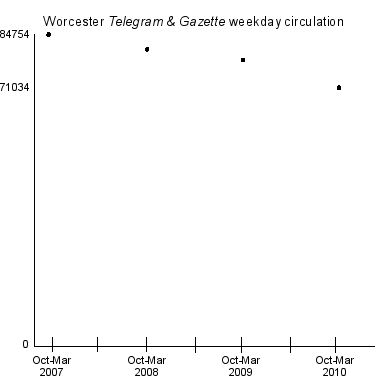 Oct 2006-March 2007: 84,754
Oct 2007-March 2008: 81,437
Oct 2008-March 2009: 78,479
Oct 2009-March 2010: 71,034
The audience for the paper's website is expanding, but they're planning to erect a paywall. Jeff points out that the # of unique visitors to the site is growing 3 times as fast as page views.