508 #151: Papers
posted by Mike on April 13th, 2011
508 is a show about Worcester. This week's panelist is Brendan Melican.
[display_podcast]
Audio: mp3 link, other formats, feed
Video: Downloads and other formats
You can watch 508 Fridays at 7pm on WCCA TV13.
[0:00] Mystery Band was this past weekend.
[1:08] Worcester: Who Knew?
[1:35] There was a double-murder this week.
[2:05] Brendan tells us about the Ecotarium.
[3:03] Mike Germain looks sloppy in the official City Council photo. We explore various sartorial and conspiracy theories.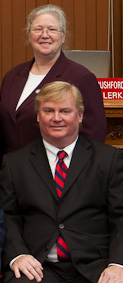 [9:52] Mike talks about a discussion of race facilitated by Deborah Plummer at St. Peter's. Brendan mentions that the local NAACP is being revived, led by Ravi Perry.
[13:00] Worcester VegFest is this weekend.
[15:13] The restaurant Duck Yao has its grand opening this weekend. (Preview pix.)
[18:00] Some neighborhood people are organizing against Clark's deal to close Downing Street.
We read some of the local free papers, including:
[19:02] The African Radiant.
[19:20] Happiness Pony.
[20:02] The St. Peter's Parish bulletin.
[21:45] Mothers News.
[22:00] InCity Times.
[24:25] Vitality.
[25:55] Yes, people are protesting Obama's wars, not just Bush's.
[27:30] Brendan gives us the rundown on redistricting.