Free Advent kit offer
posted by Mike on November 21st, 2012
Each year for the past few years, we've assembled an Advent wreath from scratch, scrounging candles from drawers and the supermarket, attaching them to a dinner plate with hot wax, and covering the rest of the plate with branches from the nearest evergreen.
This year I've bought a bunch of candles and plasticine so I can make a better wreath. In fact, I've bought more than enough, so if you'd like to make your own wreath, I'll mail you enough candles and plasticine to do it. Send your address to pieandcoffee@gmail.com with the subject line "Advent." I'd really like to get these in the mail by November 27, so please let me know ASAP.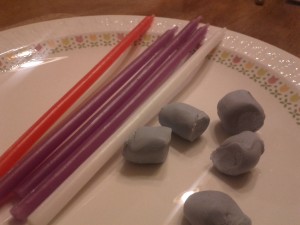 Other items:
This month the US Catholic bishops endorsed the Vatican making Dorothy Day, the co-founder of the Catholic Worker movement, a saint. Dorothy is one of my greatest heroes, a woman who gave her life to serving the poor and speaking out for justice and mercy. She's also a controversial candidate for sainthood, not only because she was a pacifist and anarchist, but because she famously said: "Don't call me a saint. I don't want to be dismissed that easily." Here's a good article on that with thoughts from Fr. James Martin and from Robert Ellsberg, who worked with Dorothy near the end of her life and edited her published letters and journals.
Every year I encourage my Christian friends to take a mild step to "put the Christ back in Christmas" by not shopping on the day after Thanksgiving. Julia Smucker makes a similar argument, with a big helping of theology.
Can't believe I forgot to mention: The best Wal-Mart/Black Friday project yet, Mark Dixon's My 49 Hours at Wal-Mart.