Palm Sunday, 2013
posted by Mike on March 24th, 2013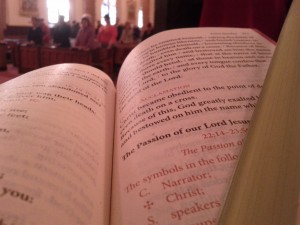 The Lord GOD has given me
a well-trained tongue,
that I might know how to speak to the weary
a word that will rouse them.
–Isaiah 50:4
Palm Sunday mass is complicated for a lector. Not only is there an initial entrance into the church with blessed palms, but the Gospel is read like a play, with parts played by the priest, various deacons and lectors, sometimes people selected from the congregation, and even the congregation itself (roaring "Crucify him! Crucify him!").
When I was first learning to be a lector as a teen, Palm Sunday was my trial by fire. Fr. Ed Bell gave constant feedback in the form of smiles and dirty looks. He always presided over a great mass, and I think his priority was never individual excellence or self-expression, but universal competence. If the details are attended to, the mass will be not only worshipful but nourishing to the heart.
I was a lector tonight at St. Peter's, and it went great. I appreciated that Deacon Reisinger, in his homily, drew out one of the lessons of Easter, that "hope springs forth," and connected it to the wonderful event of the election of Pope Francis.
I will proclaim your name to my brethren;
in the midst of the assembly I will praise you
–Psalm 22:23
One blessing of my life is that I get to talk with a lot of smart non-Catholics who are curious about my faith. Since the election of Pope Francis, friends keep coming up to me at parties or on the street and asking me questions. For my friends who are not in Worcester, here are my party-sized answers to the most frequently-asked questions.
Q: What do you think about Pope Francis?
A: I'm very, very hopeful about this pope. There have been so many good signs from the very start of his papacy.
Q: OK, but I don't think he's very good on [issue X].
A: There are a hundred areas where the Church needs reform or renewal. Already, he seems willing and able to get something done on several of them. If he makes major progress on even a couple, that's an impressive job. I'm very, very hopeful about this pope.
[This next question has somehow always involved NPR, even though plenty of media outlets have noted this issue. This next question has also always somehow elicited a very detailed answer from me.]
Q: OK, but I heard on NPR he was involved with human rights abuses?
A: There are various allegations. Anybody who's in charge of something during a time like that, there are going to be allegations, and there are going to be mistakes. My question is, what kind of mistakes? Right after he was elected, there was a lot of attention to an article in a respected outlet saying he'd been involved in a shocking incident. It was the kind of thing to make you think that maybe the other allegations were part of a pattern of serious mistakes. But within a few hours the report was retracted. The author was confused, Bergoglio had nothing to do with that incident. The next morning there was an allegation that worried me, but the evidence was slight, and I haven't seen it repeated, and in light of other details it doesn't make a lot of sense. So as far as I can tell, he may have made mistakes, but he's a really good guy. People should not shy away from talking about this stuff. The Catholic Church has had a huge problem with being able to talk about the mistakes and crimes of its priests. But as far as I can tell, and I am no expert on the history, there is nothing to be concerned about here. I'm very, very hopeful about this pope.
Christ Jesus, though he was in the form of God,
did not regard equality with God
something to be grasped.
–Philippians 2:6
From the pope's Palm Sunday homily:
Why the Cross? Because Jesus takes upon himself the evil, the filth, the sin of the world, including the sin of all of us, and he cleanses it, he cleanses it with his blood, with the mercy and the love of God. Let us look around: how many wounds are inflicted upon humanity by evil! Wars, violence, economic conflicts that hit the weakest, greed for money that you can't take with you and have to leave. When we were small, our grandmother used to say: a shroud has no pocket. Love of power, corruption, divisions, crimes against human life and against creation! And – as each one of us knows and is aware – our personal sins: our failures in love and respect towards God, towards our neighbour and towards the whole of creation.
For who is greater:
the one seated at table or the one who serves?
Is it not the one seated at table?
I am among you as the one who serves.
–Luke:22:27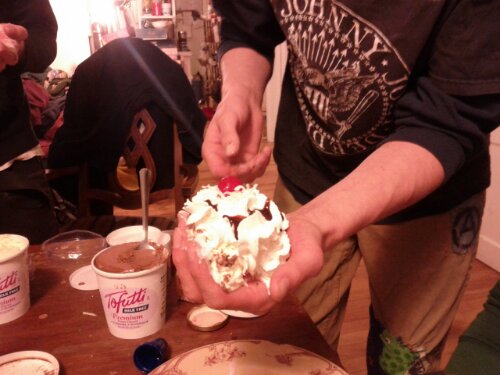 Several of my housemates seized the day and celebrated Palm Sundae.
Holy Week schedule at St. Peter's, Worcester
Holy Tuesday: Confessions at 5pm.
Holy Thursday: Mass at 7pm, followed by Adoration until 10pm. Some parishioners will travel together to 7 churches after mass.
Good Friday: Stations of the cross at noon in the church. Walking stations of the cross from 2pm, starting at St. Peter's School. Spanish Good Friday liturgy at 3pm. (7pm English at St. Andrews.)
Holy Saturday: Confession at 3pm. Easter vigil mass at 7:30pm.
Sunday: Regular mass schedule, with Easter egg hunts after 9am and 10am masses.