Notes on "My week of living locally"
posted by Mike on July 9th, 2009
Worcester Magazine: "My week of living locally"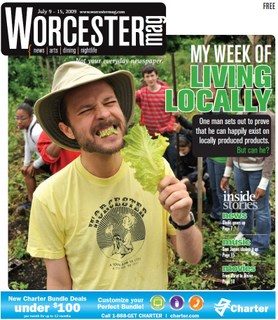 Pictured: the author in YouthGrow's Oread Street community garden, Main South.
I tried a similar experiment in 2008.
Notes on "Home-grown economics"
The much-talked-about Andersonville Study. The same consultants did a larger 2008 study with similar results. (I focused on Andersonville because those numbers were most frequently used in framing the economic argument, at least my readings and interviews.)
Notes on "Not made in Worcester"
My list is here.
See also A ready reference hand book of Worcester made products (1914)
Thanks to Steve Jones-D'Agostino, Oley Carpp, Tim McGourthy, Brendan Melican, Tracey Novick, Professor John Brown, Brittany Durgin, Greg Opperman, Julius Jones, Dr. Gonzo, 4rilla, Drew Wilson, Adam Villani, and Destination Worcester.
Special thanks to Scott Zoback, Jim Keogh, and SA for their support.
You can leave comments below.